Product Info
| | |
| --- | --- |
| Product Name | Diflubenzuron |
| Tags | Diflubenzuron,Diflubenzuron price,Pesticides Diflubenzuron,Insecticide Diflubenzuron,N-[[(4-chlorophenyl) amino] hydroxy] -2,6-difluorobenzamide | difluoromethylcarbazide | dimethalin | fluorocarbazone | 1- (4-chlorophenyl) -3 -(2,6-Difluorobenzoyl) urea | Fufenoxuron | Dimecarb |
| CAS | 35367-38-5 |
| Appearance | White crystalline powder |
| Molecular formula | C14H9ClF2N2O2 |
| MW | 310.683 |
| Purity | 99% |
| Shelf Life | 24 months when properly stored |
| Storage | Keep in a cool, dry, dark location |
What is Diflubenzuron ?

Pure Diflubenzuron is white crystal, and the original powder is white to yellow crystal powder. not soluble in water. Insoluble in most organic solvents. It is relatively stable to light and heat, easy to decompose in case of alkali, stable in acidic and neutral media, and has greater toxicity to crustaceans and silkworms. It is safe for humans, animals and other organisms in the environment.
Diflubenzuron Application
Usage 1: benzoylurea pesticides. Inhibit the synthesis of insect chitin. Mainly to stomach toxicity, and also has contact. The residual effect period is longer, but the drug effect rate is slower. It is used to control various pests of Lepidoptera, especially for larvae, and is safe for crops and natural enemies. For example, to control Plutella xylostella, Spodoptera litura, Spodoptera exigua, Pieris rapae, etc., use the 25% suspension agent 500-1000 times liquid spray during the egg incubation period to the 1-2 instar larval period. To control corn borer and corn iron beetle, during the initial incubation period of larvae or the peak period of spawning, irrigate the heart leaves or spray with 1000% to 2000 times of 20% suspension agent to kill eggs and incubate larvae. To control mythimna separata, during the larval outbreak period, use 20% suspension agent 75 ~ 150g / hm2 and add 750kg water spray. To control citrus leaf moths, spray 25% suspending agent 2000 times in the early stage of tapping and egg hatching. In addition, it can also control pear borer, poison moth, pine caterpillar, rice leaf roller, etc.
Usage 2: Diflubenzuron is used to kill armyworm on corn and wheat.
Usage 3: It has special effects on Lepidoptera pests, and is also effective on Coleoptera and Diptera pests.
Usage 4: Fufenuron is a new insecticide, which has gastric toxicity to the larvae of many important pests. It interferes with epidermal deposition and prevents insects from dying or metamorphosis and dying. It can also inhibit the formation of the epidermis during the embryonic development of insect eggs, so that the eggs cannot develop and hatch normally, and also have a certain inhibitory effect on the fertility of insects. This product has a wide insecticidal spectrum, especially for Lepidoptera larvae. Because of its unique mechanism of action, it has low toxicity to humans and animals, and little harm to natural enemies. It is a relatively good selective insecticide developed in recent years.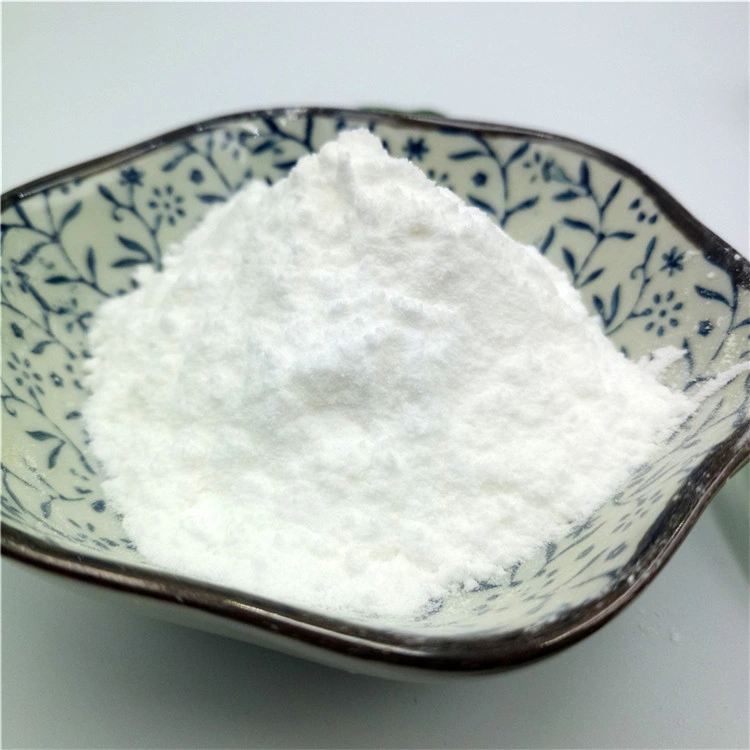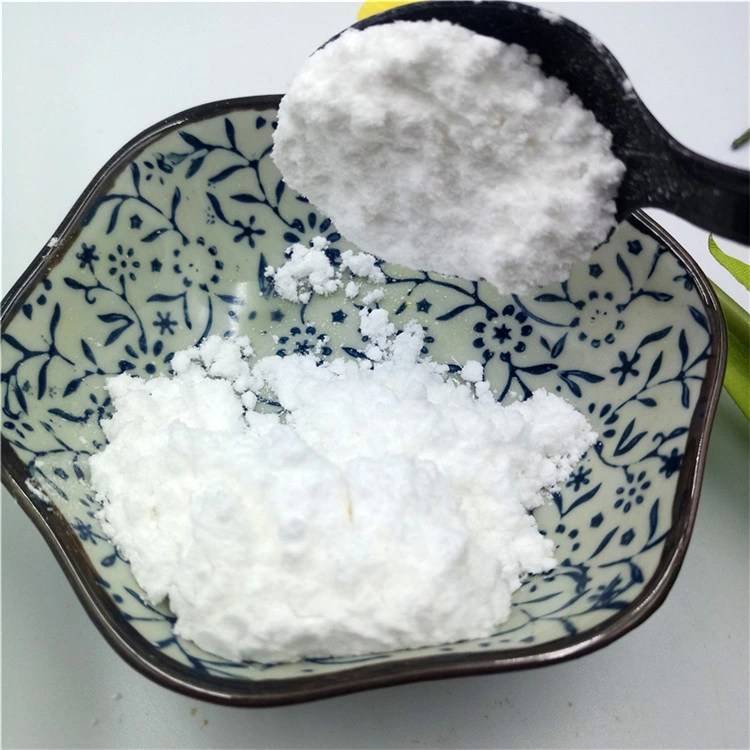 Dosage
Crop

Target

Dosage (the amount of

preparation)

concentration

Forest

ine moth, tent caterpillar,

inchworm, fall webworm

moth

7.5 to 10 grams

4000 to 6000 times

Fruit tree

Gold miner pattern,

peach fruit moth, leafminer

5 to 10 grams

5000 to 8000 times

Crop

Armyworm, cotton bollworm,

cabbage caterpillar,

leaf borer, armyworm,

ermine moth

5~12.5gram

3000~6000times
Specification
| | |
| --- | --- |
| Item | Standard |
| Appearance | White to light yellow crystal powder |
| Content | 98% Min |
| Persistent foam(1min) | 60ml Max |
| Wet sieve test (75μm sieve) | 2% Max |
| Stability at 54±2, 14 days | Qualified |
| Wetting time | 60s Max |
| Suspensibility | 70% Min |
| Water | 0.5% Max |
| PH | 6.5-8.5 |
Our Hot Sale Products
| | |
| --- | --- |
| Benzocaine | CAS 94-09-7 |
| Lidocaine | CAS 137-58-6 |
| Lidocaine hcl | CAS 73-78-9 |
| Procaine | CAS 59-46-1 |
| Procaine HCL | CAS 51-05-8 |
| tetracaine | CAS 94-24-6 |
| Tetracaine hcl | CAS 136-47-0 |
| Phenaceti | CAS 62 44 2 |
| Tetramisole | CAS 5036-02-2 |
| Tetramisole hcl | CAS 5086-74-8 |
| Boric Acid Flake | CAS 11113-50-1 |
| Paracetamol | CAS 103-90-2 |
| | |
| BTMS 50/BTMS 25 | CAS 81646-13-1 |
| | |
| 2-bromo-4-methylpropiophenone | CAS 1451-82-7 |
| 2,5-Dimethoxybenzaldehyde | CAS 93-02-7 |
| 2-Bromovalerophenone | CAS 49851-31-2 |
| Pyrrolidin | CAS 123 75 1 |
| BMK Glycidate | CAS 5413-05-8 |
| 1,4 butanediol | CAS 110-63-4 |
| | |
| --- | --- |
| Item Name | CAS No. |
| Lufenuron | 103055-07-8 |
| Nitenpyram | 120738-89-8 |
| Fenbendazole | 43210-67-9 |
| | 14769-73-4 |
| Diclazuril | 101831-37-2 |
| Ivermectin | 70288-86-7 |
| Toltrazuril | 69004-03-1 |
| | 55268-74-1 |
| Tetramisole Hcl | |
| Ponazuril | 9004/4/2 |
| Florfenicol | 73231-34-2 |
| Enrofloxacin Hcl | 112732-17-9 |
| Mebendazole | 31431-39-7 |
| Albendazole | 54965-21-8 |

Package&Shipping

1kg/Aluminum foil bag;
25kg/drum/box or as customer's request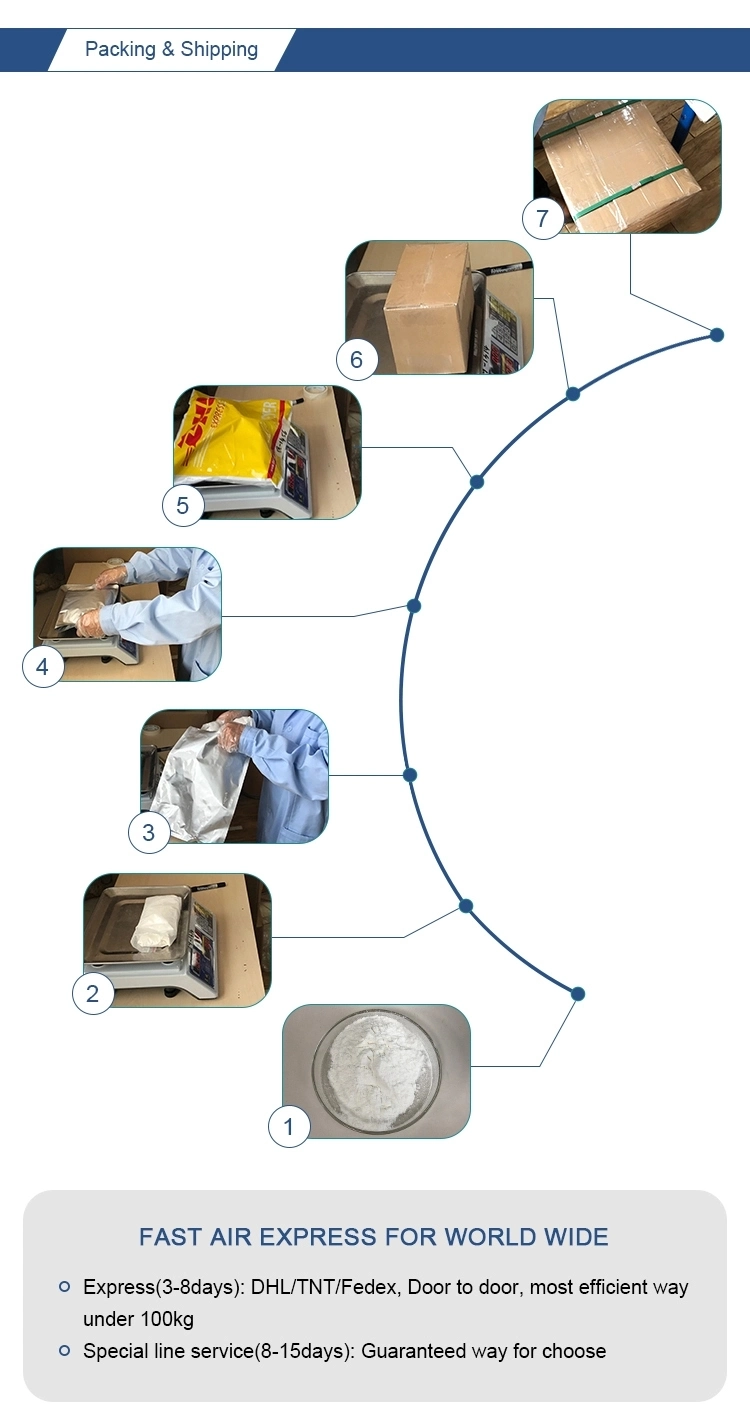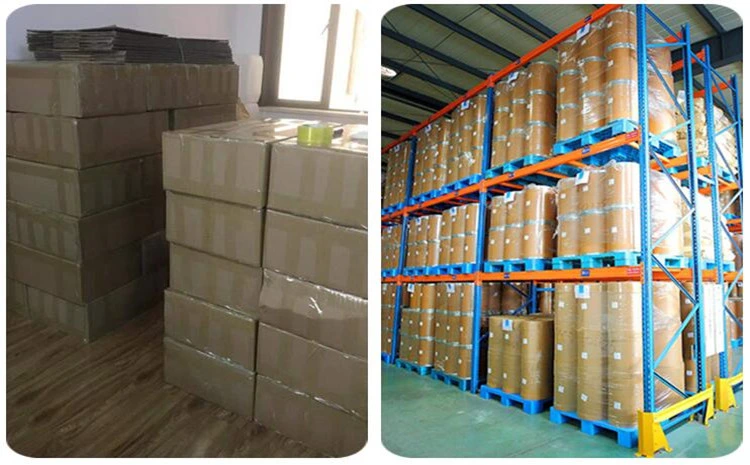 Company Introduction

HUBEI AOKS BIO-TECH CO.,LTD is located in Hubei province of China.We specialized in active pharmaceutical ingredient,pharmaceutical intermediates,veterinary drugs and agrochemicals.

We have strong professional research and development team, talented personnel and completely equipped laboratory for the quality controlling.Our products are exported to more than 60 countries overseas, 80% of which are exported to Europe and America, and 20% to Southeast Asia, the Middle East, South Africa and other regions. Because of excellent quality and after-sales service, our company has gained a good reputation at home and abroad.

"Quality Best,Customer First" is what we adhering,sincerely looking forward to establish long-term and mutual beneficial business relationship with worldwide customers.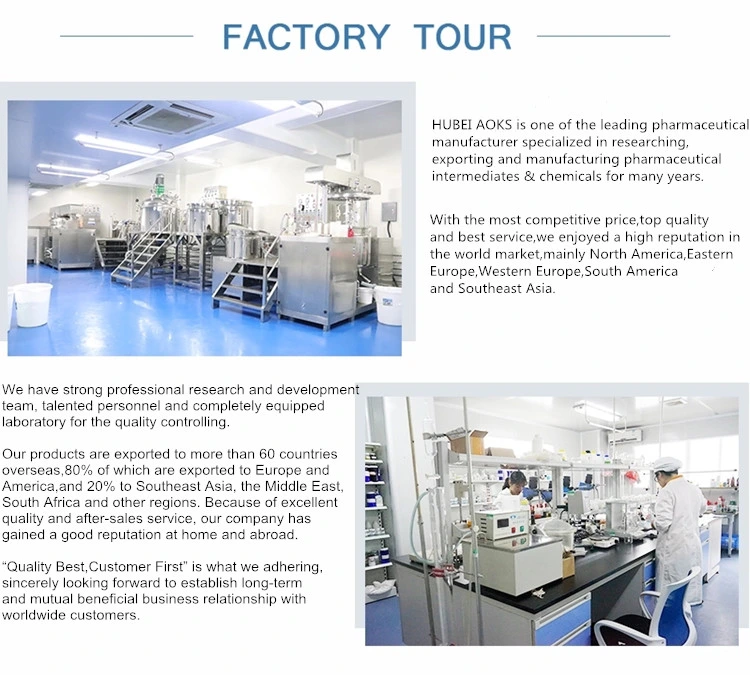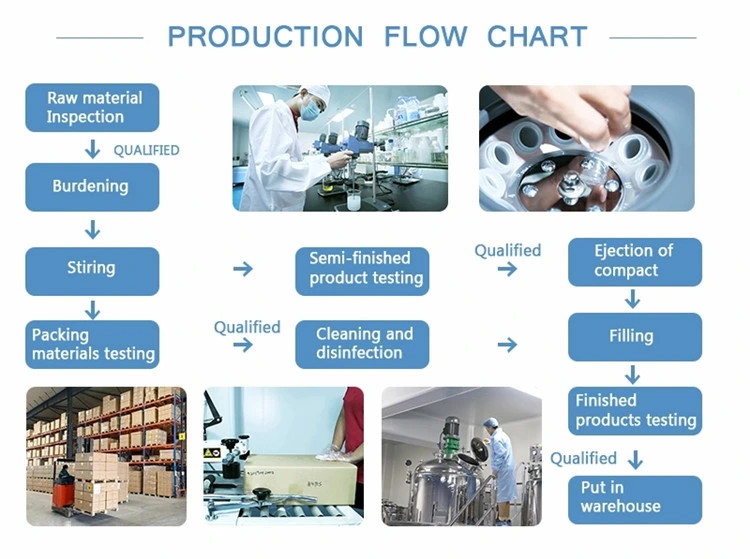 Our Team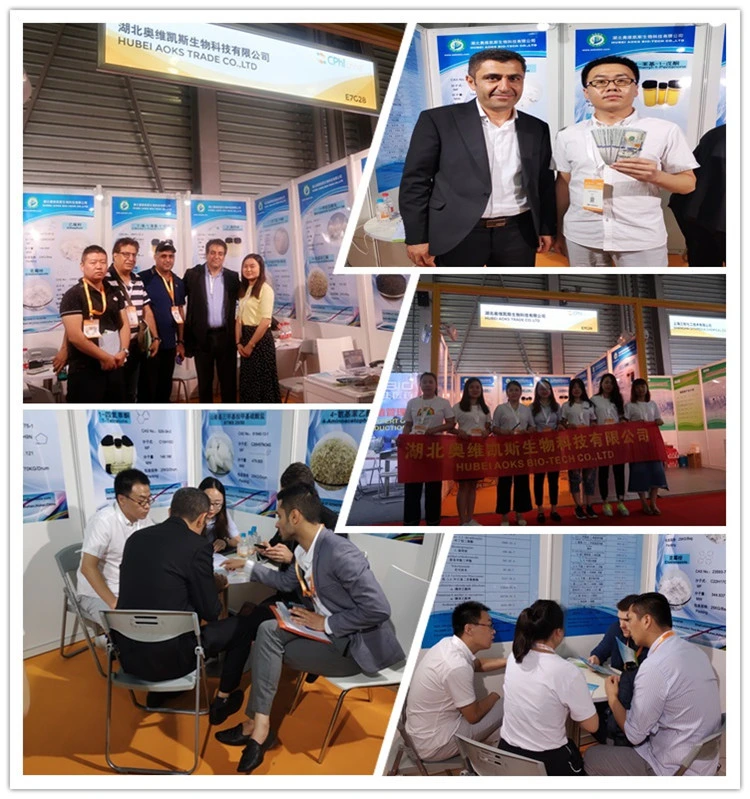 Our Concept

1.Client is first.We are trying to bring maximum profit to our clients and we only share small.

2.Credibility is the most important.

3.Quality control is our life.

4.Great sense of responsibility.

We will be responsible for not only our products, our clients, our suppliers, also the society.


Our Advantage

1. Selecting raw materials strictly,our products are the highest purity.

2.Reasonable and competitive price. Provide the best and professional service.

3.Fast delivery of the samples ,samples from stock. Reliable shipping way.

4.Full experience of large numbers containers loading in Chinese sea port.

5. Best after-service after shipment .
6. Professional documents for your custom clearance.

Our Service

1.Timely communication, reply within 12 hours. You can leave any messages or send email to us.

2.OEM/ODM Available.Trial order is available for testing after samples.

3.Free sample for your evaluation.Customers only need to undertake the shipping fee for deliver.
It is relatively safe and fast.

4.The more discount you'll get if your order is potential.

5.Door to door shipping service is available.

6. Packing with pallet or as buyer's special request are all available.

Our Certificates




F.A.Q

Q1: What's your MOQ?
A:It is based on the different product.

Q2:How about delivery leadtime?
A:Delivery lead time: About 3-5 days after payment confirmed. (Chinese holiday not included)

Q3: Is there a discount?
A:Different quantity has different discount.

Q4:How to start orders or make payments?
A:Proforma invoice will be sent first after confirmation of order, enclosed our bank information. Payment by T/T, Western Union or Bitcoin.

Q5: How do you treat quality complaint?
A:First of all, our quality control will reduce the quality problem to near zero. If there is a real quality problem caused by us, we will send you free goods for replacement or refund your loss.

Q6. We don't know you at all, how can we trust you?
A: You are always warm welcomed to visit us at any time.Before we start B2B, MIC has audited our company on-spot and approved our credit.Commitment is the No.1 Point of our Enterprise's Value.

Q7.Do you test all your goods before delivery?
A:Yes, we have 100% test before delivery,International Authorized Third-Party Test for the products if you need are highly welcomed.